Atra Torin 6 $150 Running Shoes Test & Review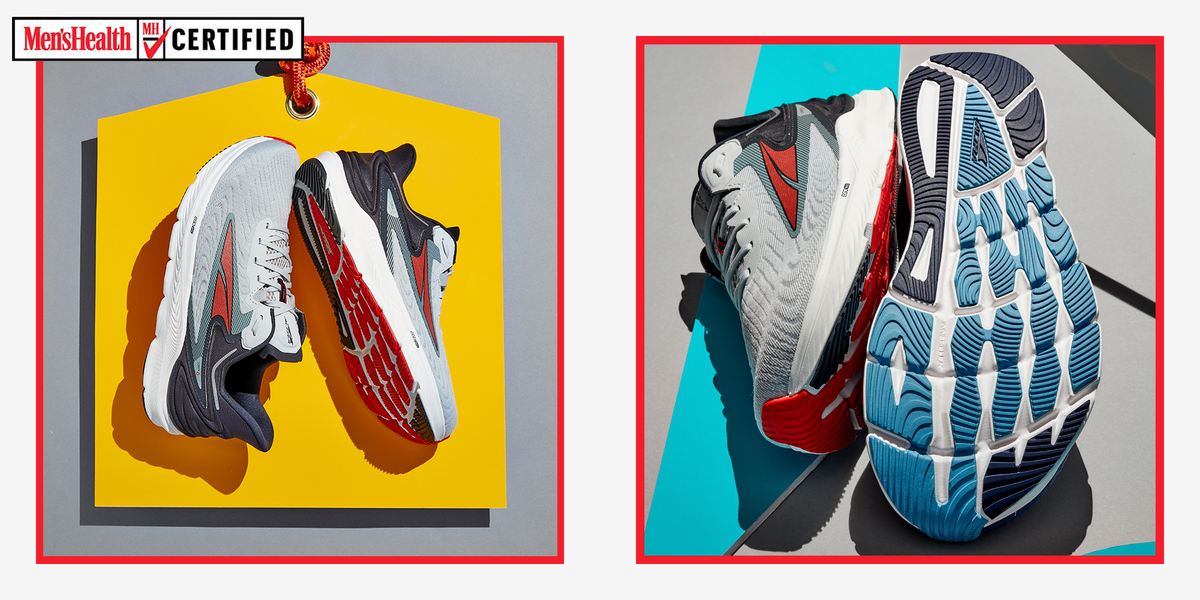 WHEN I CHOOSE my running shoes, I usually aim for a pair that can give me one of two things: extra speed boost or such cushioning that my feet barely feel like they're brushing the pavement with every stride.
But these two scenarios are at opposite ends of the running spectrum: frantic running or long, slow recovery jogs. There are many other paces that fall between these extremes – fartleks, 200m, 400m, or 800m reps, or just plain old mid-distance jogs – and it's the miles that end up making up the bulk of my workouts, whether I'm on the track or on the road. The shoes I wear for these workouts don't have to be so extreme. I'm best served with a pair that can handle both speed and mileage reliably.
That's what I was looking for when I laced up the Altra Torin 6, the new neutral road shoe from the sneaker brand Feet First. I found a comfortable and reliable trainer that should be a good choice for everyone, from beginner runners who can run a few minutes at a time, to experienced marathon runners who put in dozens of miles a week.
I've worn other shoes from Altra before, both on the road and on the trails – my favorites, the Vanish Carbon fiber race and Mont Blanc BOA luxury trail, just won the MH Sneaker Awards – so I know the brand's typical design language. I had also worn the previous model in the Torin line and really liked the fit and feel of the shoe on the road.
All of these kicks are quite different from most anything I lace up from other brands. Altra's shoes are designed to more naturally mimic the shape of the foot (the brand calls the fit "FootShape"), to give the wearer more room to spread their toes out for a "natural" feel. The result is a very roomy toe box, a far cry from some of the narrow speed shoes (and even normal sneakers) that I feel like I have to squeeze into and squeeze my toes together to fit. In my experience, this has generally resulted in less foot fatigue on long runs that last over an hour, when I start to notice the feeling of fit with each stride.
Wearing the Altra Torin 6
The Torin 6 continues this design scheme (officially, it's Altra's "Standard" fit) with plenty of room to splay the toes and a raised heel collar for easier lockdown. I had no issues with the tongue of the 5 when I wore it, but several reviewers noted that it could cut your ankles. The tongue of the 6 has therefore been updated to have a softer feel. The upper material is also new, changing from a flexible mesh to a stiffer material, which Altra calls a jacquard knit mesh. I found it a little stiff when I first laced the shoes and took my first steps, but I quickly got used to the feel (and maybe loosened it too ) once I hit the road for my first race.
I'm deep in training for my city's marathon, so I was in the perfect position to test out a versatile pair of shoes. I was able to record several different types of runs with the Torin 6, from quick jolts (usually 4-6 miles at a relatively easy pace) to a long Saturday run, which ended at around 14.5 miles depending my Strava data.
The shoes were reliable, a little less cushioned than the previous iteration of the Torin, but no less comfortable. Altra's midsole foam, dubbed Altra Ego Max, is less springy than other shoes I've worn (especially compared to super high pile shoes designed for racing), but there was some bounce subtle with each stride, decent energy return. As the miles piled on it was consistent, which was only a good thing. Sometimes shoes with hyper-responsive foam can feel too heavy as my legs get tired when I try to stop myself from pushing too hard, a bad habit I have as a former sprinter trying to conform good distance running practices. I was able to stay in a productive pace range, and the shoes were light enough (officially 9.9 ounces) that my feet never felt too heavy on the back half of my high mileage.
Getting the Altra 6 off the road
But a shoe like the Torin 6 can't just be used for training. Yes, serious runners need a versatile shoe to use for their workouts like I did, but I envision the ideal wearer as someone who wants a do-it-all pair of kicks. Maybe they're just starting to run, or they want shoes they'll rely on as their go-to choice for work, school, walks, and more. And for that, there are other considerations to be made. Namely, aesthetics.
Altra's laser focus on fit and performance is no secret. With that in mind, I would very rarely turn to any of the brand's shoes for anything other than training. You'd be hard pressed to catch me in a pair of Altra with street clothes; the unorthodox shape and basic to garish colorways don't exactly match my particular style. Even though other types of performance-oriented running shoes have become surprise fashion choices, Altra hasn't exactly made the same leap.
Good for dads who don't care less about throwing a tantrum. But it's not me. To completely review the Torin 6, I wanted to make sure I also put the shoe through its paces sartorially.
The colorway I tested was basic, a clean white and gray with a black logo. This has been enhanced by a gum outsole that extends to the toe, adding a bit of subtle class. I was pleasantly surprised when I stepped up my gear beyond the running gear and dog-walking gear I had paired with the shoes, putting them in the high rotation of my work shoes. These called for a casual look, and the overall effect was one of effortless, laid-back comfort.
The Torin 6 looks way better than I expected. The shape actually looks sleek rather than boxy, and the jacquard knit upper does double duty, appearing as an understated pattern design element that stands out the more you look at it. As a bonus, I felt good walking around in the Torin 6, which isn't always the case as I'm willing to sacrifice a little comfort for aesthetics. Consider it a fashion world winner, hope you take notice.
Who should wear the Altra Torin 6
All in all, I enjoyed my time wearing the Torin 6. The shoes were reliable and comfortable – even after probably 30 miles of running, lots of dog walking, and a day of commuting and the office, they got a bit look different than when I took them out of the box. I didn't like the new upper at first, but I guess it will help make the Torin 6 even more durable in the long run.
The Torin 6 is a solid option for a beginner runner, general trainer, or more experienced runner looking for a reliable trainer for the meat and potato runs that make up a big part of their workouts. If you're looking for a fast running shoe, you'd better go with something with more responsive foam (and if you're really serious, a carbon plate).
At $150, the Torin 6 is reasonably priced compared to similar models from other brands – and cheaper than the specialized sneakers and running shoes that many runners choose to wear for their workouts. Especially if you wear the Torin 6 for more than just errands, you should get what you pay for.
Brett Williams, fitness editor at Men's Health, is an NASM-CPT certified trainer and former professional football player and tech journalist who divides his training time between strength and conditioning training, martial arts and running. You can find his work elsewhere at Mashable, Thrillist, and other outlets.