Brave defeats Phoenix Brave won by 32 points – Brave vs Phoenix, the Hundred Men competition, final match summary, report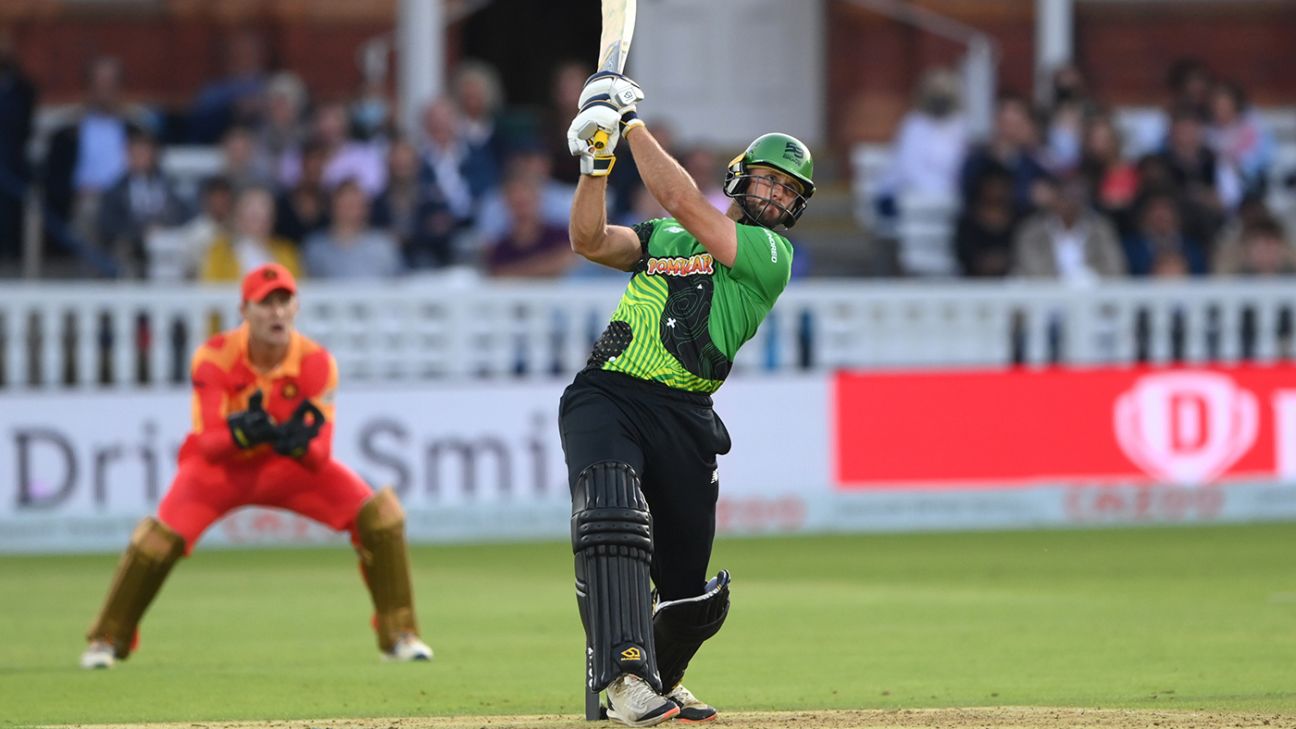 9:11 p.m. The Brave Women therefore fail in the final, but the Brave Men are making sure the South Coast franchise does not come home empty-handed today. Stirling, Whiteley, David, Garton, Jordan, Lintott, Mills … today there is no shortage of heroes on the winning side. Real teamwork. Phoenix got off to a terribly slow start to Powerplay, but Livingstone made up for it until David's sight loss caught Livingstone's head in the clouds and it nearly sealed the final in Southern Brave's favor.
Here is the captain of the Southern Brave, James Vince: "First of all I mean kudos to Birmingham Phoenix. They played really well and made it difficult for us. Last night I said it was our most complete performance. We didn't have much. hitting first in the competition to get a score like that was good and Paul Stirling gave us a good start followed by Whiteley. He was a different person every game. Ross when he had a chance was great in the tournament and Stirlo, I told him to convert one of those quick starts he gets us out and getting us a winning round was exceptional. Either way, you can take Livy out for the moment, an exceptional fielding and a little luck for get rid of him, but it came at a crucial time. I think the team fitted in well in a short period of time and that was the key to our success. Having the opportunity to play here in a hall height tonight on a Saturday night is incredible, the perfect end of a competition . "
And now James Vince will be lifting the gold-plated H-shaped championship trophy. The courageous team left the stage and are now soaking up winning moments with the crowd.
The hero of the match is Paul Stirling: "I think it was a brilliant team performance. Everyone has contributed since I got involved. Another good day for the guys and we finished it well at the end. I think it was a harder start than we've had in recent games. It was two-beat early and we saw it in both ends. We needed an injection in the second half of the innings and I'm happy with that. got to do a part of it before the boys were done. We try not to put too much pressure on ourselves by playing in front of a full house at Lord's. I was watching the first half on the couch on TV but when you get here , that's wonderful."
Men's Hundred MVP decided by the PCA MVP ranking formula is … Liam Livingstone: "Obviously very disappointed [we couldn't win] but playing to a full house at Lord's is a big day. We were beaten by a great team. You don't play in the final every day so you want to soak up everything and we were beaten by a better team. I think it's been years of hard work traveling the world to improve myself in my own game playing in different franchise tournaments and now it's great to have ours here. Seeing so many kids here today was great. It's awesome. We weren't sure what to expect at the start of the tournament but it just got stronger and stronger. Selling land is a good thing and I hope it can continue to grow for the future. In the end, we were beaten by the better team that day, but that doesn't take away from the fact that we played really good cricket throughout the tournament. "
That wraps up our coverage of The Hundred's inaugural tournament. We hope you enjoyed ESPNcricinfo's coverage of a daily barrage of dual women / men programs. For Matt Roller, Andrew Miller, Alan Gardner, Valkerie Baynes, Varun Shetty and the rest of the Hundred cover crew, I'm Peter Della Penna. Take care!