Grab a slice of gooey muscle fuel with our 6-Minute Protein Pizza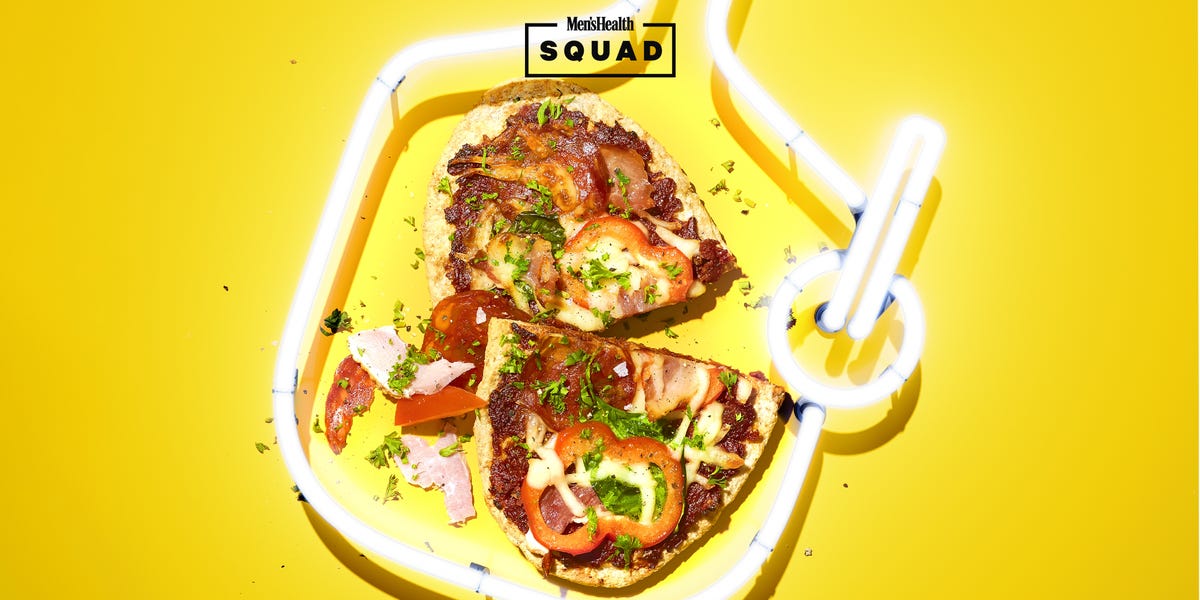 Completion time: 6 mins

Calories: 297
Protein: 20g
Carbohydrates: 34g
Fat: 9g
You will need…
For the pizza:
Whole Pitta, 1
Mozzarella, 20g, grated
Spinach leaves, 5
Red bell pepper, ¼, chopped
Slices of chorizo, 3
Cooked ham, 1 large slice
Dried parsley
For the pesto:
(For 5 servings)
Dried tomatoes, 100g
Olive oil, 1 tbsp
tomato puree, 1 tbsp
Dried basil, 1 tsp
Garlic powder, 1 tsp
Salt and pepper, sprinkle
Method
0-3min
Don't shy away from the bread. Whole grain pitta contains the B vitamin thiamin, which helps protein metabolism for increased muscle growth, as well as the manufacture of red blood cells to carry oxygen to your muscles to stop lactic buildup. Save time and toast the pitta until slightly crispy, while you add all the pesto ingredients to a bowl and mix thoroughly for an even consistency.
3-5 minutes
Once toasted, thinly spread a tablespoon of pesto to cover the pita and store what's left in an airtight container in the fridge. Now get creative and add all the other toppings in any order you like.
5-6min
Place the pitta in the microwave on high power for 45 seconds. When it rings, open the door to see your toppings sizzle and the pitta still crunchy. Dig for post-workout fueling your muscles desperately need.
Powerful sauce
High Protein Garlic Herb Dip
Swap the sugary BBQ sauce for a healthier bunch of garlic and herbs to add an extra 10g of protein to your pizza.
Method
Pour two tablespoons of 0% fat Greek yogurt into a serving bowl. Mix 1 tablespoon of garlic powder, 1 teaspoon of dried parsley and 1 teaspoon of dried coriander to your yogurt. Serve in a pan alongside your slice for added muscle benefits.