Hobart Vigil on Tasmanian State Budget for Men's Health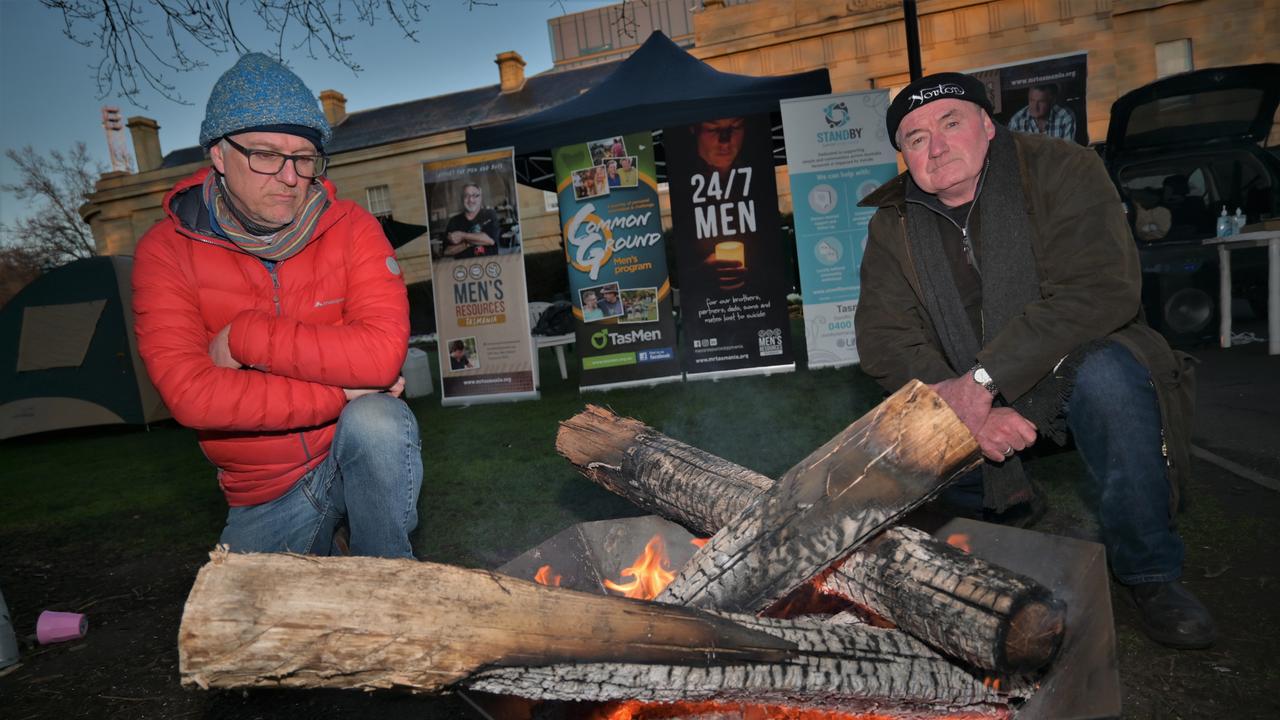 A group of guys started a bonfire on the lawns of Parliament, demanding that the state government set aside more money for men's mental health services in the next state budget.
A group of guys spent the night huddled around a bonfire on the lawns of Parliament to protest the lack of mental health services for men.
Men's Resources Tasmania is calling on the state government to set aside more funds in the next state budget for men's services, which they say are being overlooked.
Jonathan Bedloe said there was a lot of money set aside for women's services, but very little to tackle the overrepresentation of male suicide.
"We think there is a feeling out there that it is politically incorrect to support men, but the survey showed that Australians overwhelmingly support the need to address different issues for different genders."
"We know a lot of money is spent on family violence, and that's a good thing… but if we're going to tackle this form of inequality, we have to tackle the other side.
On Tuesday, the group released a report that found men accounted for three in four suicides, but mental health services had 80% of clients.
Suicide is a problem that closely affects Peter Callander, who has friends, relatives and colleagues who have committed suicide.
Mr Callander was one of the people who gathered around the bonfire on Monday to mourn the good men they had lost and to open up about their own battles of sanity.
"Most of the people here knew someone who committed suicide or attempted to kill themselves, so we light a candle for these people," Callender said.
"I have also had my own experience with depression so I can really understand where people are going.
"Almost 80 percent of suicides are men, and yet there are no specific services for men and many men fall through the cracks because the services are not meant to hire men."
Men's Resources Tasmania chairman Brendan Sullivan said he believed the state and federal governments had let down the men in the mental health department.
"Nationally, the last budget provided $ 538 million for the National Women's Health Strategy, and nothing for the Men's Health Strategy. The story is similar in Tasmania, "Sullivan said.
If this story has raised concerns for you, contact Lifeline on 13 11 14 or the Kids Helpline on 1800 55 1800.