Inflate your chest and arms in 15 minutes with this smart low-kit workout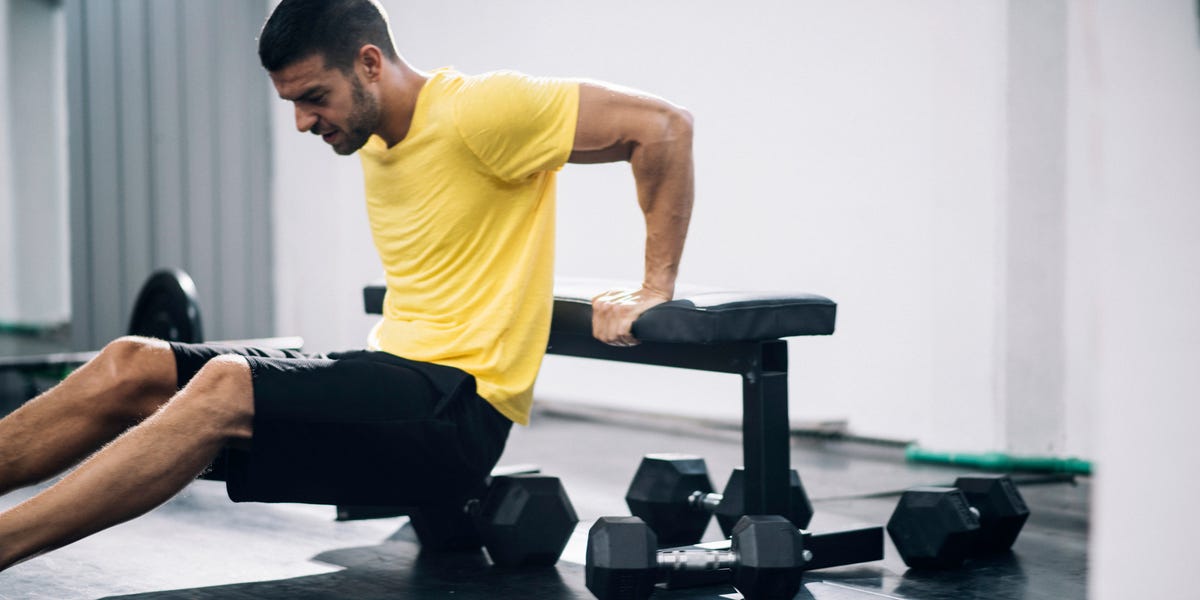 mihailomilovanovicGetty Images
We love a functional, full body workout that builds serious strength and unparalleled conditioning, coruse, but every now and then a good old school chest pump is in order.
This workout does not require anything other than your body weight and a few parallel bars (or rings). In just three movements, it will provide you with a t-shirt stretch pump for ages. You will use a technique called "increasing density scale"; so set a timer for 15 minutes and start repeating your dips and pushups. Start with one rep of each, then add an additional rep to all three exercises with each new round. Your goal is to climb as high up the ladder as possible, so take note of your final turn and then try to go higher next time for guaranteed wins.
Dips x 1, 2, 3, 4, 5… etc.
Jump on two parallel bars with your locked arms outstretched (A). Use two boxes or the backs of two sturdy chairs if you are at home. Slowly lower until your elbows are at a right angle, making sure they do not splay outward (B). Go back to the top and repeat.
Pumps x 1, 2, 3, 4, 5… etc.
Get into a plank position, with your core tight and your hands stacked under your shoulders (A), bend your elbows to bring your chest to the floor (B). Keep your elbows close to your body as you explosively ascend.
Raised hand pumps x 1, 2, 3, 4, 5… etc.
Place your hands on a chair or box, in the same sturdy plank position (A). At the same pace as before, bend your elbow and move down towards the box until your chest barely touches it (B). Go back up until your elbows are locked.
This content is created and maintained by a third party, and uploaded to this page to help users provide their email addresses. You may be able to find more information about this and other similar content on piano.io