MSU striker Pavel does the little things | local sports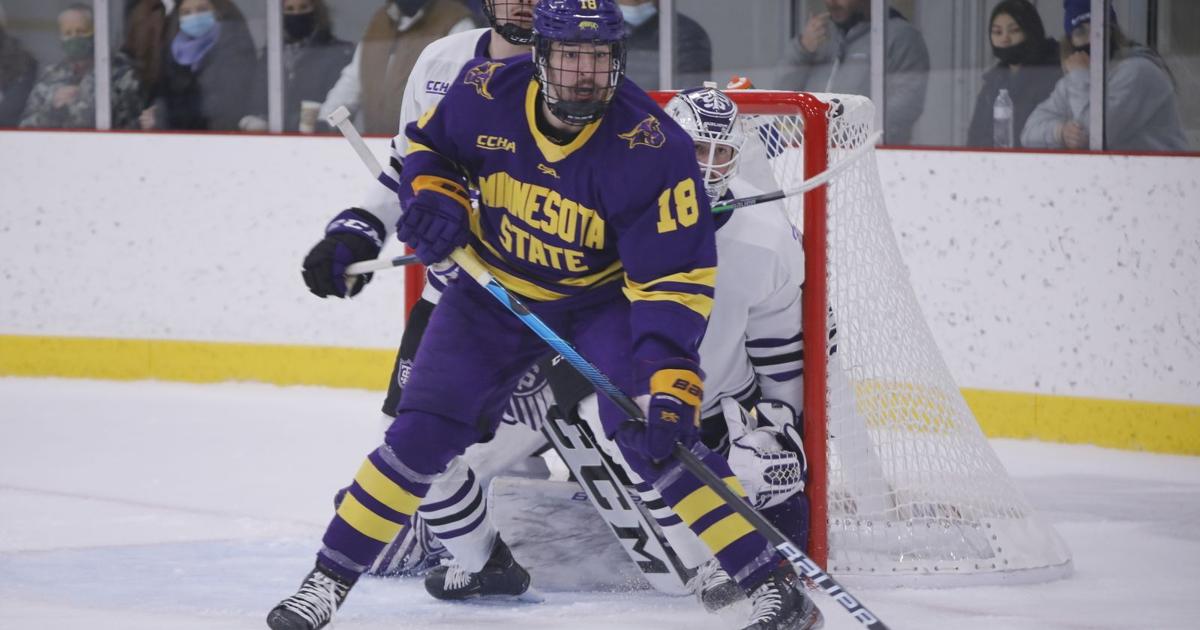 Minnesota State men's hockey player Ondrej Pavel hasn't filled the scoresheet this season in terms of goals and assists.
It's not his job.
As a heavy and long lineman, Pavel strives to impact the game in other ways, and that's exactly what he does.
"I'm very proud of everything I can do to help the team win," said Pavel, a sophomore. "I don't really think about (points) or look at stats."
It starts in the face-off spot, a place where Pavel and MSU have dominated this season. The Mavericks lead Division I in the category at 58.4%, with second-placed Quinnipiac a distant second at 56.8%. No other team in the country currently exceeds 55%.
Pavel, MSU's fourth-row center, played a big part in that. He is 137-94 on faceoffs this season, good for 59.3%. This is a significant improvement from a 54-51 record last season.
"If I play against the centers that make up the No. 1 team in the face-offs, it makes me better and it makes them better too," said Pavel.
Pavel ranks second among MSU forwards with 13 blocked shots, and associate head coach Todd Knott has used him as one of the team's penalty killers all season.
"He's proud of the things that aren't so easy to do," MSU head coach Mike Hastings said. "You don't get a lot of benefits in the stats column…unless you peel some of the layers off the onion.
"You look at the hard things in the game that other players don't like to play against, and you'll see him succeed in those ways."
Listed at 6-foot-2 and 202 pounds, Pavel is MSU's heaviest hitter.
He agreed to be one of the heavyweight freshmen last season when he got his chance, but he only played 11 games.
With the likes of the Dallas Gerads, Jared Spooner and Walker Duehr now graduating, Pavel has been in the lineup for every game this season, in a role similar to those they've played.
"I try to take inspiration from them," Pavel said. "I saw how hard those guys worked, and I want to be as good as them one day. I don't think I'm there yet, but I'm definitely trying to live up to those guys. guy there.
Pavel, a mechanical engineering student, also takes on a classroom challenge.
He knew a less demanding major would be easier to balance with a busy hockey schedule, but he's always had a passion for science and he came to the United States from the Czech Republic for a reason.
"I couldn't study and play hockey at the highest level at home," Pavel said. "I ended up concluding that I wanted to challenge myself, whether on the ice or off the ice. I don't think I should waste four years on a major that wouldn't give me such a head start in life.
Five things to know
Minnesota State's No. 1 men's hockey team (23-5, 17-3 at CCHA) will host Arizona State (15-12) Friday (7:07 p.m.) and Saturday (6:07 p.m.) at the Mayo Clinic Health System Event Center. The matches will be televised on Spectrum channels 191 and 826 and can be heard on KTOE AM-1420.
Here are five things to know about the game.
1. Injury Updates: MSU forward Reggie Lutz hasn't played since Dec. 30, but Hastings said he's been skating with the team all week. Defenseman Tony Malinowski, who last played Jan. 8, was unable to skate with the team this week.
2. Hastings and Smith ready for Beijing: Hastings and forward Nathan Smith, who will each represent Team USA at the Olympics, will be with the Mavericks for the ASU series but will then be absent from the team to prepare for the Beijing Games. Hastings and Smith have each said they will return to MSU no later than Feb. 23, but could be back sooner depending on how the team performs. MSU plays Bowling Green Feb. 4-5 and hosts Bemidji State Feb. 18-19. The Mavericks are not scheduled to play the weekend of February 11-12.
3. MSU status: The Mavericks are coming off a CCHA sweep of St. Thomas, including a 7-1 win in the snow on Hockey Day Minnesota. MSU has now won 12 of its last 13 games and currently sits second in the PairWise rankings.
4. Explore Sun Devils: Independent, ASU has played a tough schedule this season, including currently ranked (in USCHO.com poll) Quinnipiac (2), Denver (5), Cornell (8), UMass Lowell (14) and Northeastern (15). The Sun Devils swept Cornell and also picked up wins over UMass Lowell and Northeastern. ASU also has a home sweep over St. Thomas and a home split against Bemidji State when it resumes. The Sun Devils are tied for 21st in the PairWise rankings.
"Watching them on tape, and obviously seeing the scores and the results of the schedule they've put together…they're doing it the right way," Hastings said. "They're about as aggressive, confident, physical and talented as we're going to see. We will have to play very well to have the opportunity to win a match this weekend.
5. Women ready for Duluth: The Minnesota State women's hockey team is coming off a WCHA sweep of St. Thomas and has now won three straight games. MSU currently ranks 17th in the PairWise rankings and has a great opportunity to progress quickly with a grueling schedule in the coming weeks. The Mavericks will face Minnesota-Duluth, Ohio State and Wisconsin the next three weekends, respectively.
MSU plays Friday and Saturday in Duluth.
Follow Kevin Dudley on Twitter @Dudley7Kevin.