'Shooting with Buzz' practices helped build shots and relationships with A&M's men's team | men's basketball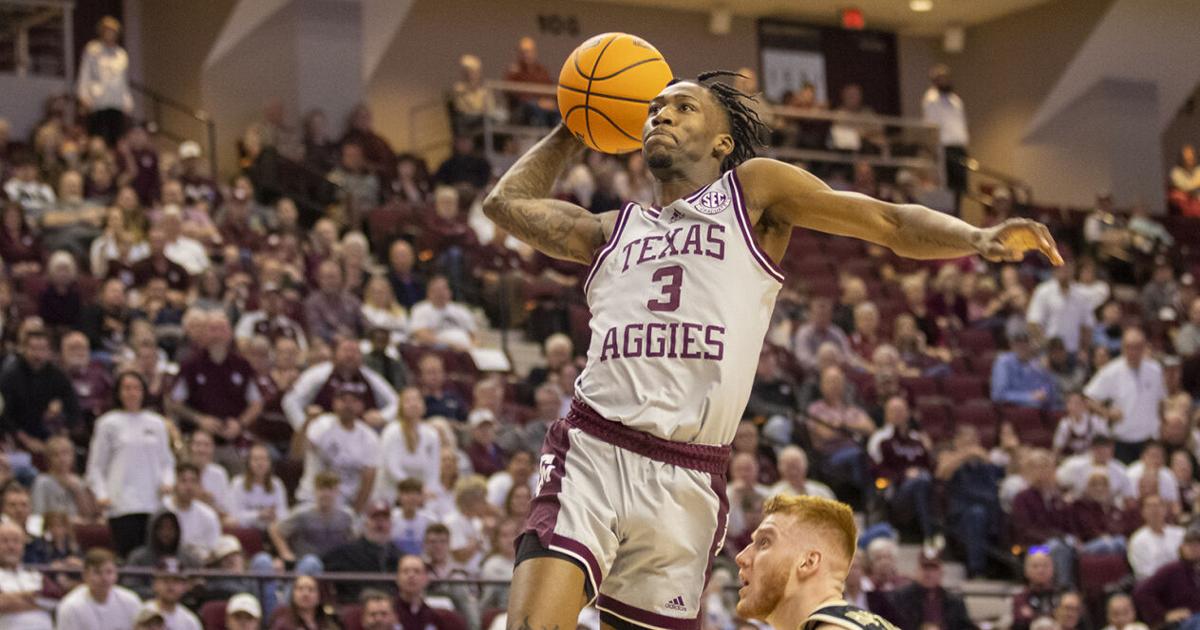 Wade Taylor IV's smooth flick of the wrist followed a smooth and seemingly effortless catch and jump at the top of the arc. The ball crossed the net with ease.
With a flick of his hips, Texas A&M head basketball coach Buzz Williams dances to music playing on a single portable speaker, complete with color-changing lights, at the base of the hoop . Before each shot, he delivers a clean pass to Taylor as a big smile spreads across the coach's face.
It's Friday before the Aggies depart for Madison Square Garden, but the mood during "Shooting with Buzz" at the Cox-McFerrin Center for Basketball resembles the Sunday morning nostalgically sung in Commodores' 1977 hit "Easy." The song echoed around Aggie's training gymnasium as every hit found its mark.
Over the summer, Williams devised a plan to use some of the four hours allowed to train one-on-one with every player on his roster, which contains seven transfers and four new freshmen. The idea was simply to bounce around as the player went through a series of timed shooting drills. What began as an off-season activity, known as "Shooting with Buzz," was brought out of hibernation midway through the Aggies' season and was a key asset to the program's journey to halfbacks. National Invitational Tournament Finals in New York.
"He did some wonderful things," Taylor said.
Practice time, which was as much relational as it was tactical, has taken on a life of its own since June and blossomed into the laid-back yet productive practice day the Aggies now endure.
"I wanted to try to find a way," Williams said, "by getting out of COVID and all the protocols and basically having a completely revamped roster — how could I find time to work, while not screaming not, while, tacitly, they know that I try to invest myself in their life and in their game?
Each player must fight their way through 18 shooting points – some caught and shot straight and some off the move – and make 7 of 10 shots. The timer starts after the player's first achievement and stops once the whole circuit is completed. The managers bounce the shots and pass a ball to Williams, who stands close to the player, handing the ball over for each shot.
On the sidelines, a manager stands in front of a giant whiteboard, tallying up the score of the players in each position. On the other side, a record of the times it took to complete the course is recorded.
"We kind of kept building on how to make it more competitive," Williams said.
Taylor beamed at the team record of just over 12 minutes he set this week. The freshman beat a time set earlier in the year by junior guard Andre Gordon by nearly a minute.
"It was surreal," Taylor said. "… This [creates] some good discussions between me and [Andre]. It's something to keep pushing each other to keep improving.
During the summer, Williams ran the program inside Reed Arena two days a week, or "home" workouts, and traveled to another gym in town twice a week for workouts. "outside". Regardless of where the practice took place, there was an iPad on a tripod running the HomeCourt app. A new technology discovered by director of scouting TJ Ryan.
HomeCourt recognizes the net and the lines of the court and keeps track of shots and attempts, keeps a table of the location of each shot and measures other analyzes produced by the drills. After each session, individual players are tagged and can see their stats and review their work to visually refine their shot.
Players could also consult an iPad to record their own individual workouts and add them to their totals. Throughout summer sessions and in individual work throughout the season, the Aggies recorded as many as 275,858 shots. Super senior Quenton Jackson alone attempted over 26,000 shots, making over 16,000. This translated to a 48.2% clip from the field and a 34.4% performance from a range 3 points this season.
"Shooting with Buzz is the most important ingredient," Ryan said. "because that's the time he spends with them." It's that time that's invested together between the two of them…that builds a different level of trust and commitment. They study for the game, but they also prepare their bodies and their game by getting shots and they do it with [Williams], which helps. This app is just a tool that helps and complements that and that's more data for them.
At the start of the season, "Shooting with Buzz" was shelved in favor of more tactical practice time. The Aggies entered the Southeastern Conference game as the conference leader with 3-point percentage, but saw that mark fall to last an eight-game losing streak. After A&M's loss at Vanderbilt, which marked its ninth loss in 10 games, Jackson and second-year guard Hassan Diarra pressed Williams to bring him back as a team-wide requirement two days before a game. Williams gladly obliged.
"Since then it's been a sea change," Taylor said.
A&M currently ranks fourth in the SEC in 3-point field goal percentage at a clip of 32.8%, as well as fourth in field goal percentage at 44.1%.
Ryan and Taylor immediately thought of guard Tyrece Radford in terms of people the program has benefited from. Prior to coming to A&M this season, Radford attempted 36 3-pointers in two seasons, making eight. This year alone, Radford has attempted 110 shots from behind the arc, making 46. His mark of 41.8 percent from 3-point range leads A&M this season, based mostly on the confidence Williams has given him in his shot.
"I think shooting with your head coach, I think it helps you put that energy into not BS and really enjoying those extra shots," Radford said. "Your head coach is there with you to shoot and help you adjust small adjustments in your jump shot and to have that confidence to get into the game is amazing."
While roster turnover was significant, A&M's field goal percentage went from 49.4% last season to 50.2% this year. From behind the arc, the Aggies have shot 32.8% this season, down from 29.9% last year.
The numbers, however, are not what players remember from practice. It's the competition and the friendly conversations between Williams and their teammates. It's the Commodores Pandora station, a Williams favorite and practice staple, popping out of the speakerphone and, somewhat reluctantly, singing every word. And it's certainly laughing at William's dancing skills.
However, they were really the building blocks of a tie that pushed the Aggies to the brink of an NIT title.
"It shows how [Williams] cares," Taylor said. "He could do anything with his day. Instead, he wants to fuck balls and help us shoot well. It shows what a great man he is.