The San Diego Union-Tribune: Tijuana Gay Men's Chorus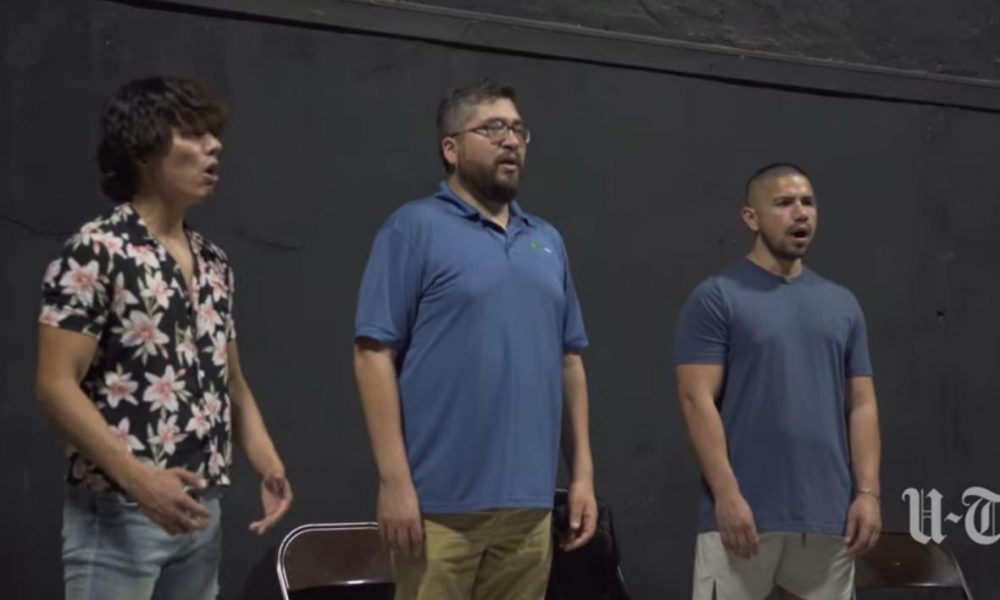 SAN DIEGO — The U.S. Navy christened and launched its latest John Lewis class of fleet replenishment tankers on Saturday as U.S. Navy ship Harvey Milk glided through the tracks of General Dynamics-National Steel and Shipbuilding Company, NASSCO, shipyards in San Diego Bay waters.
The ship is named after openly gay LGBTQ+ rights activist and former San Francisco supervisor Harvey Milk, who, along with his LGBTQ+ ally Mayor George Moscone, was murdered by disgruntled former supervisor Dan White, in their offices. from San Francisco City Hall on November 27, 1978.
The age-old christening ceremony with a smashed champagne bottle on the bow was performed by Paula Neira, clinical program director at the John Hopkins Center for Transgender Health. Also present at the ceremony were Stuart Milk's nephew of the late San Francisco Supervisor Harvey Milk, Navy Secretary Carlos Del Toro and California State Senate President pro Tem Senator Toni Atkins, whose The Senate District includes the San Diego area where the United States Navy's sprawling naval base is located as well as the NASSCO shipyards.
Other dignitaries included Out San Diego City and County Commissioner Nicole Murray Ramirez, openly gay San Diego Mayor Todd Gloria, campaign manager and adviser to Supervisor Milk Anne Kronenberg, and chairman of the San Diego County Board of Supervisors, Nathan Fletcher.
Addressing the attendee audience, Secretary Del Toro told them; "The Secretary of the Navy was meant to be here today, not only to right the wrongs of the past, but to inspire all of our LGBTQ community leaders who have served in the Navy, in uniform today and in the workforce. civil work as well, and tell them that we are committed to them in the future.
The Secretary then spoke directly about Milk's sexual orientation and his forced removal from naval service.
"For too long, sailors like Lt. Milk have been forced into the shadows or, worse yet, driven from our beloved navy," he said. "This injustice is part of our Navy's history, but so is the perseverance of all who continue to serve in the face of injustice."
In 2016, then-Secretary of the Navy Ray Mabus decided that six new tankers in the fleet slated for construction would be named after civil and human rights leaders.
Del Toro told Mabus, who attended the christening, that it was a brave decision.
The Milk is a fleet tanker and will be responsible for supplying fuel oil and dry cargo to United States Navy ships at sea. The Milk is the second vessel in the new class of tankers in the John Lewis fleet. The future USNS John Lewis (T-AO-205), named after the former civil rights leader and congressman from Georgia, is also under construction at NASSCO San Diego.
The first six Lewis-class tankers in the fleet are named for prominent civil rights activists and leaders, in addition to USNS John Lewis (T-AO-205); USNS Harvey Milk (T-AO-206) – LGBT activist Harvey Milk; USNS Earl Warren (T-AO-207) – Chief Justice of the United States Earl Warren; USNS Robert F. Kennedy (T-AO-208) – U.S. Attorney General Robert F. Kennedy; USNS Lucy Stone (T-AO-209) – Women's rights activist Lucy Stone; USNS Sojourner Truth (T-AO-210) – Abolitionist and women's rights activist Sojourner Truth.
Also addressing those present, Stuart Milk, co-founder and president of the Harvey Milk Foundation, referring to his uncle's naval service, said;
"He has a less than honorable discharge. He was forced to quit because he was gay," said Stuart Milk, adding that "we need to teach our history to stop us going back and repeating it."
Milk told the audience that while there is a process for undoing such dumps, he said it was important not to do so for his late uncle in order to "keep the memory of how we didn't. not honored everyone in this most honorable service".
Milk enlisted in the Navy in 1951 and attended the United States Navy Officer Candidate School in Newport, Rhode Island. In 1954 he was a lieutenant (junior grade) stationed at Naval Air Station Point Mugu, which during Milk's tenure was the Naval Air Missile Test Center near Oxnard, California. He was a diving instructor.
As the Bay Area Reporter wrote in an article in February 2020, Milk received an "other than honorable" discharge from the United States Navy and was forced to resign on February 7, 1955, rather than face a court martial. because of his homosexuality, according to a treasure trove of naval documents obtained by the newspaper. This contradicted an archival document held at the San Francisco Public Library's San Francisco History Center that the authors of several recent Milk biographies had used to claim that Milk had been honorably discharged from the Navy.
#TeamToni was happy to attend @GDNASSCOthe baptism and the launching ceremony of the @USNavyis the Harvey Milk ship! This vessel was built by San Diegans to commemorate Harvey's deep civil rights legacy and honor his service in the Navy. 🏳️‍🌈🛳 pic.twitter.com/OhCwpDemIj

— Senator Toni Atkins (@SenToniAtkins) November 6, 2021
Today, General Dynamics NASSCO christened and launched the future USNS Harvey Milk (T-AO 206).

Read the full press release, view more photos and replay live footage from the event at https://t.co/IDa9D2hBKj.#NASSCO pic.twitter.com/BU2j2BFmoi

— NASSCO (@GDNASSCO) November 6, 2021
The USNS Harvey Milk was launched in San Diego. The US Navy Fleet Oiler was commissioned by Paula Neira, director of the clinical program at the John Hopkins Center for Transgender Health. SF Milk's supervisor was killed in office by Dan White in 1978. Milk was a Navy vet. @nbcbayarea pic.twitter.com/P1aPq9CWF2

— John Zuchelli (@tvzuke) November 6, 2021
Navy launches ship named for gay rights leader Harvey Milk – ABC News https://t.co/SIgVfP4bVc

— Stuart Milk (@StuartMilk) November 6, 2021
The naming and launching ceremony of the future USNS Harvey Milk (T-AO 206):