This pork belly ramen packs 34 grams of muscle-building protein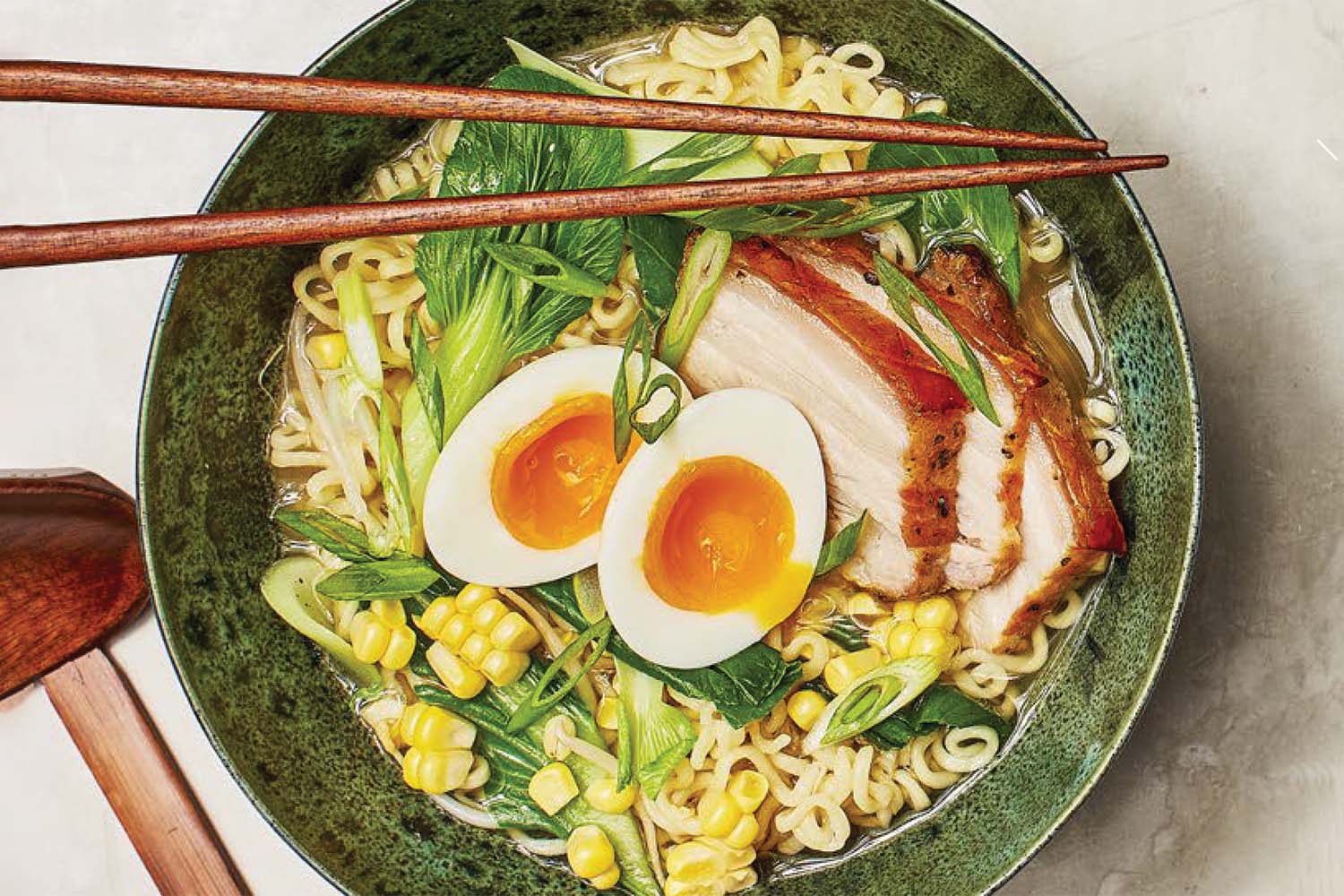 Picture: HAmi Lee.
You can think of ramen as a carb fest, but if you reverse the portions — more meat, less noodles — you'll be in for 30 grams of muscle-building protein and 10 grams of filling fiber.
Protein: 30g
While a bowl of ramen can have an unlimited number of toppings, this recipe relies on pork belly, which offers six grams of protein per 70-gram serving, and an egg – a large one usually contains about six grams of proteins.
Wait, what is 30/10?
30/10 gives you nourishing, muscle-building meals with 30 grams of protein and 10 grams of fiber.
Buy it
If you don't want oily skin, you can ask the butcher to remove it for you. But then you'll miss that crispy skin to crunchy perfection when you roast it…
Oven Roasted Pork Belly Ramen
This recipe makes four big bowls of ramen, which means you can reheat leftovers for lunch or dinner all week. A super important note on reheating: remove the eggs before
microwave or they will explode. Just put them back in the hot broth and they will warm up.
What you will need
FOR 4 PEOPLE
• 450 g pork belly with or without skin
• 2 teaspoons of sugar
• 6 cups no salt added chicken broth
• 1 thumb-sized piece of ginger peeled and grated
• 1 small clove of garlic, peeled and grated
• 3 tablespoons of white miso
• 1 tablespoon of soy sauce
• 1 teaspoon toasted sesame oil
• Hot sauce (sriracha, chilli oil), to taste
• 2 x 150g packets of ramen (Shin or Neoguri brands preferred), flavor packets discarded, cooked according to package directions, drained
• 4 hard-boiled eggs, peeled and cut in half
Toppings: corn kernels, sliced ​​spring onions, bean sprouts, chopped bok choy, squares of nori, more hot sauce
*Eating raw or undercooked meats, poultry, seafood, shellfish, or eggs may increase your risk of foodborne illness.
METHOD
1. In a large, wide bowl, mix 4 teaspoons of kosher salt with the sugar and a few black peppercorns. Pat the pork dry with paper towel. If you opted for the skin, using the tip of a knife, incise the skin every 2 cm diagonally. Repeat in
the opposite direction to create a diamond pattern. Add
belly in bowl, turn to coat, cover and chill
For 1 hour.
2. Preheat your oven to 230°C. Remove the pork from the rub, trim any excess and place in a large ovenproof skillet, skin side up. Roast the pork on the middle rack of the oven until the skin is golden brown, about 30 minutes. Reduce heat to 135°C and roast until tender, about 1 hour. Transfer to a cutting board to rest.
3. In a medium saucepan, bring broth to a boil over high heat. Add ginger, garlic, miso, soy sauce, sesame oil and hot sauce. Adjust heat to medium-low and simmer, stirring occasionally, until miso dissolves, 5 to 10 minutes. Season as desired.
4. Cut the pork into thin slices. In 4 bowls, divide the ramen, broth, egg halves, pork and desired toppings.
Nutrition per serving: (with ¼ cup of all toppings except square nori): 2900 kilojoules, 34g protein, 74g carbs (8g fiber), 46g fat.
If you have 10 minutes. . .
. . . replace soft-boiled eggs with hard-boiled eggs.
The jammy yolks will infuse the broth with extra richness. Fill a medium saucepan with 2cm of water and bring to a boil over high heat. Using a slotted spoon, lower into 4 chilled eggs. Put a lid on the pan and boil for exactly 6 minutes. Using the spoon, transfer the eggs to a bowl and run them under cold water until cool enough to peel.
If you have 15 minutes . . .
. . . soften the vegetables.
Blanching bok choy and bean sprouts will sweeten their flavors, in a good way. Bring a medium pot of salted water to a boil. Place a large bowl of ice water next to it. Add bok choy and bean sprouts to boiling water and cook until just softened, 30 to 60 seconds. Drain, transfer to the ice bath, then remove.
If you have the night . . .
. . . caramelize!
You can make the taste of roast pork even more impressive. Once cooled to room temperature, seal the pork in plastic wrap and refrigerate overnight. The next day, remove the pork from the packaging, cut it into thin slices and sizzle it in a hot skillet until browned on both sides, about 5 minutes in total, just before cooking. add to hot broth.